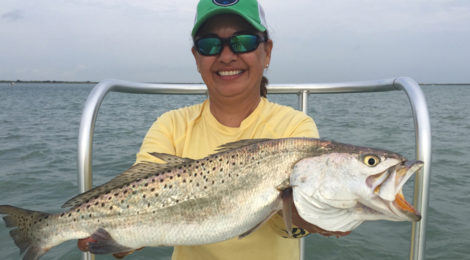 In late summer and early fall, there's little angling pressure plus a big assortment of fish to catch in lots of different ways.
Story and Photography by Danno Wise
From a fishing standpoint, September is a near perfect mix of summer and fall. During this transitional time, as summer fades to fall, anglers are treated to a variety and diversity in terms of number of available species and effective styles of fishing. While fishermen up and down the Texas Coast will be able to experience catching plenty of species this month, no other bay in Texas offers such as varied lineup of inshore species as the Lower Laguna Madre. Without a doubt, the Lower Laguna Madre is the place to be during late summer and early fall to catch a great variety of fish in lots of different ways.
During September, the inshore waters are still warm, however, despite fairly high air temperatures, the water will be cooling throughout the month due to shorter daylight hours. The end result is usually water that is just the right temperature to encourage maximum fish activity.
Also leading to an increase in activity is the fact several species of fish will be getting ready for their fall spawning rituals. The annual redfish run is generally hitting its stride in September. Speckled trout are beginning their secondary spawn. Mangrove snapper will be in the midst of their spawning ritual. And, although they generally don't "run" until Thanksgiving, flounder will also be getting friskier in anticipation of their annual spawn.
Again, this combination of conditions and biological clocks adds up to more active fish during the month of September.