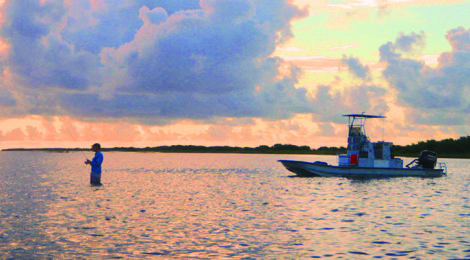 Sabine Lake to Port Mansfield offers a variety of productive fishing areas
By Robert Sloan
On the topic of wade fishing Rudy Grigar, a.k.a. The Plugger once told me that it was his only escape from the world.
"When I'm out there in waist deep water with a rod and reel and silver spoon the only thing that I'm thinking about is that next bite,"said Grigar. "It's that simple. It's me and the fish."€
Actually the only thing that Grigar had to worry about was avoiding other fishermen. He started out in Galveston. But with the influx of more and more fishermen, he moved down the coast to Port O'Connor. And when he couldn't escape pesky waders there, he packed up for his final escape and headed to the Chandeleur Islands.
These days there is no such thing as escaping fishermen along the Gulf Coast — regardless of where you go. But it's a fact that wade fishing for reds and trout is one sure fire way to drain the brain of the daily grind. And it's also a fact that there is no shortage of great wade fishing water along the Texas coast. It's simply a matter of knowing where to go and when to be there.
On the upper Texas coast is Sabine Lake, and this is where you can pretty much find blue-chip water to wade on any given day — even on the weekends. For some reason wade fishing on Sabine has never been all that popular. But it's definitely a go-to destination for anglers in the know. Sabine Lake gets very little fishing pressure, in comparison to other bays. I've been fishing this place for over 20 years. The numbers of reds here, big reds, are incredible. If I had to pick a top wade fishing spot for quality reds and trout it would be Sabine.
At Sabine you can put in at the Causeway boat ramp, head north towards Blue Buck Point along the Louisiana shoreline, and from there you can wade until their ain't no tomorrow. Some of the best topwater action you'll have for redfish will be about a mile up from Blue Buck Point. What you want to do is anchor your boat up near the shoreline, get out and fish.