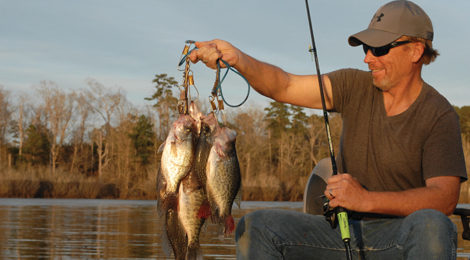 Story and Photography by Matt Williams
Texans love our cowboy hats and pick-up trucks, but we may love our crappie even more.
As angler hit lists go, Texas Parks and Wildlife surveys indicate the prolific panfish rank third in statewide popularity polls behind largemouth bass and catfish.
Some may say the Top 2 are highly overrated. I've met a few crappie fishermen who consider largemouths and channel cat to be "trash fish," good for nothing except throwing the occasional monkey wrench into their papermouth plans. Interestingly, I've never heard anyone curse a crappie, except when the fish just aren't in mood to bite.
Indeed, there is much to love about a crappie. To wit:
* Other than during the spawn, the fish tend to run in tight schools. They are prone to gang up around isolated pieces of structure like brush piles, artificial fish attractors and bridge pilings, often in considerable numbers. Catch one and you might catch a dozen or more in short order from the same spot.
* The fish are governed by pretty liberal limits, too. The statewide daily limit is 25 fish, 10 inches. The only exceptions are Caddo and Toledo Bend, 25 fish, no minimum length limit; and Lake Texoma, 37 fish, 10 inches.
Also, from Dec. 1 – Feb. 28, anglers at Lake Fork and Lake O' the Pines are required to keep the first 25 fish they catch, regardless of size. This is due to the high incidence of barotrauma in fish pulled from deeper water during winter.
* There is no need for $15 lures and other expensive tackle in crappie fishing arenas. It's a light tackle affair ruled by tiny hair jigs, live shiners and 2/0 gold aberdeen hooks.
* As table fare goes, crappie are consistently voted the tastiest freshwater fish around. I've heard more than one crappie junkie say they would take a quart bag of crappie fillets over a gallon of catfish, any day.