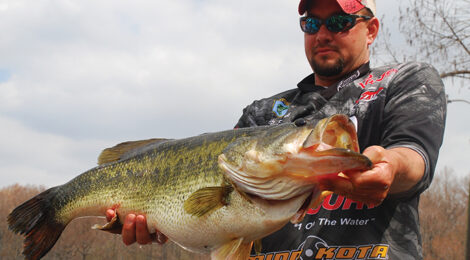 A review of lakes that produced the Top 50 Texas bass of All-Time.
Story and photography by Matt Williams
I was just a college freshman with no real direction when Jimmy Kimbell reeled in a 14.09 pound largemouth bass from Lake Monticello near Mount Pleasant. The timeline was February 1980.
Kimbell's fish is a benchmark in Texas bass fishing history for several reasons. For starters, the whopper bass snapped a 37 year lull between state record fish dating way back to 1943. The fat bass also offered credence to the notion the late Bob Kemp had when he brought the first Florida bass to Texas in 1971.
Kemp was the chief of the inland fisheries division with the Texas Parks and Wildlife Department at the time. He believed fast growing Florida bass would do well in the mild Texas climate. Lake Monticello was among the first Texas lakes stocked with Florida fingerlings in the early 1970s, but it wasn't the first. Lake Murvaul was.
Here's another factoid about Kimbell's lunker sure to leave some Texas bass junkies scratching their heads in wonderment.
Roughly 41 years later, Texas' first-ever 14 pounder is now a former state record that has been eclipsed five different times and doesn't even qualify for the Texas Top 50. Truth is, Kimbell's fish isn't even close to making the prestigious list which ranks by weight the state's 50 heaviest bass of all-time.
As of November 2020, the Top 50 included bass ranging from 18.18 pounds at the top to 15.45 pounds at the bottom. Included are five fish in the 17 pound range, 21 in the 16 pound class and 23 15-pounders. Only one of those fish — a 15.5 pound former state record caught from a private lake by John Alexander, Jr. — was caught prior to 1986. Those fish are divided among 17 different impoundments, including three privates lakes and 14 public reservoirs that represent nearly a half dozen geographic regions.
************************************************************************
To read more, click here to SUBSCRIBE