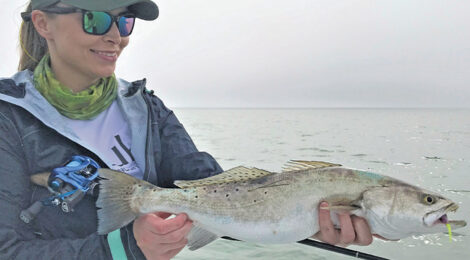 Texas diverse coast offers plenty of opportunities to hook a big speck of a lifetime.
Story and photography by Robert Sloan
Winter doesn't officially begin until December 21, 2020, but don't tell speckled trout that. December isn't usually a real cold month, but come January and February we will definitely be getting some serious frosty fronts and that will change the way serious trout fishermen will go about catching more and bigger trout.
A couple of years ago I was fishing the north side of East Galveston Bay with guide Jim West. We were belly deep in a green tide and catching some really nice trout on soft plastics along the Anahuac National Wildlife Refuge shoreline. But then the southerly breeze stopped, the north wind started howling and the bite shut down.
"Well, that's not good at all," said West. "That's going to move these fish off this shoreline and into deeper water within the next hour."
He was right on the money. Our run of stringing trout came to a standstill. And we fished another hour and half before catching another trout. But the fish we began to catch had moved out of three to four feet of water and were now in six to seven feet plus the bite went from aggressive to a soft mouthing our baits.
Both of us switched from fishing soft plastic tails to slow sinking mullet imitation plugs, with the most bites coming on 52M series MirrOlures, in white/green and bone/chartreuse. The trick was being patient which is a big deal when fishing for cold water trout.
With the north wind at our back we were fishing the lures deep and reeling them just fast enough to keep them moving about a foot off the mud and shell bottom. We ended up with two decent stringers of trout.
"That's a classic transition of trout feeding shallow then moving deep with rapidly falling temps," said West. "I'm surprised that we stayed with them long enough to pick up a few. The trout went from an aggressive bite to one that we could hardly feel. That's the way it goes when a front rolls through."
************************************************************************
To read more, click here to SUBSCRIBE