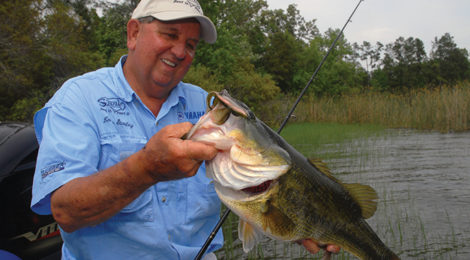 The appeal of Texas' bass fishing is the diversity of "other bass" species waiting to be caught.
Photography and Story by Matt Williams
Everybody knows Texas is blessed with some of the very best bass fishing on the planet. Sort of like they know the big bite can come at a whole bunch of different lakes during any season of the year. On more than one occasion I've said that a guy could pick a spot near the epicenter of the state, head off in just about any direction and sooner or later wind up in close proximity to a freshwater lake or where catching a lunker largemouth upwards of 10 pounds is a legitimate possibility.
Adding to the appeal of Texas' bass fishing is the diversity of "other bass" that are out there finning around waiting to be caught. While the largemouth is king in these parts, some Texas water bodies also support abundant populations of smallmouth bass, spotted bass, Guadalupe bass and Alabama bass, as well.
Pay a visit to the right lake and you might even stumble across a "Meanmouth" or two.
It's worth noting that the meanmouth bass isn't designated as a species of black bass. Meanmouth is a slang term used to describe the genetic cross that results when a smallmouth bass and northern spotted bass share the same spawning bed during springtime. Like other bass, the meanmouth has a rather cranky disposition. It also has the genetic potential to grow shoulders.
Just ask Cody Morrison of Pilot Point.
Morrison was off work on a stormy Saturday morning last October and a bad dose of cabin fever was eating him alive. To cure it, he decided to hook up to his boat and head to nearby Lake Ray Roberts.
"It poured rain that day and we even had a little bit of hail and lightning," Morrison said. "Some of my friends texted me and told me I was out of my mind for being out there. It was pretty miserable, but I really didn't have anything better to do."