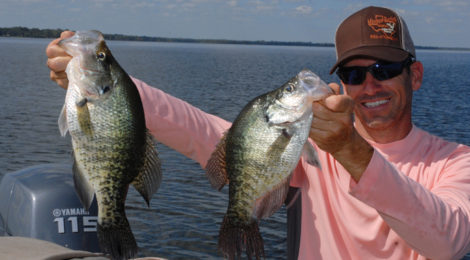 Once the bait shows up, predators like crappie and bass won't be far behind.
Story and Photography by Matt Williams
If fish could talk, there is little doubt they would express plenty of love for brush piles. My guess is crappie and bass would scream the loudest. Both are prone to gravitate to mangled, tangled fish hotels like cowboys to honky tonks.
The love for brush comes natural. It provides a foundation for zooplankton and other microorganisms on which shad, minnows and other little fish feed. Once the bait shows up, predators like crappie and bass won't be far behind. The bigger fish sometimes use brush as cover to ambush the little guys when they swim dangerously close.
Fishermen are pretty fond of brush piles, too — so much so that they routinely plant them at strategic locations for the purpose attracting fish, particularly crappie and bass.
Planting brush piles is a sweaty drill that takes time and hard work to accomplish.
Cut the brush. Haul it to the spot. Outfit the brush with blocks or sandbags so it will stay glued to bottom. Then dump it overboard.
The theory is crappie and bass will, in time, find the brush and set-up camp around it. Anglers who zero in on the sweet spots can naturally boost their chances of catching fish using any number of baits and prescribed fishing techniques.
For crappie, small jigs and shiners are the main orders of the day around brush piles. Bass anglers meanwhile rely heavily on Texas rigs, jigs and crankbaits to do their damage.