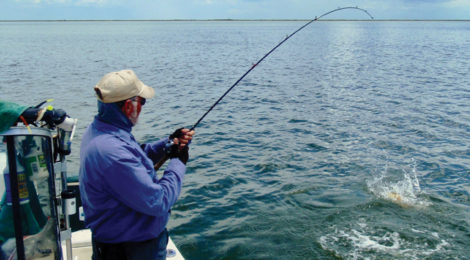 Mid summer patterns present anglers with a variety of options in multiple bay systems.
Story and Photography by Nate Skinner
July is here and so are the dog days of summer. The transition out of spring is over and warm water patterns are in full force. Additionally the effects of freshwater inflows from spring rain events have dissipated and a variety of locations on Texas' Upper Coast are starting to produce excellent results.
With summer patterns comes some consistency. Rising water temperatures have concentrated fish in their typical summertime hangouts. Anglers should soon begin to find steady action in a number of locales, day in and day out, for the next several weeks.
Premier summertime hotspots are littered across just about every upper coast bay system from West Matagorda Bay to Sabine Lake. Some lie inside protected estuaries while others are found in the Gulf. They all encompass similar characteristics in that they either contain or are located adjacent to deeper water. Plus the ideal conditions for these areas will continue to improve and become more prevalent as the summer season wears on.
These prime locations for cashing in on a variety of fish present anglers with a diverse set of options and challenges. Those that are willing to trailer their boats this summer can hone their skills while fishing multiple estuaries to find success over the next two months.