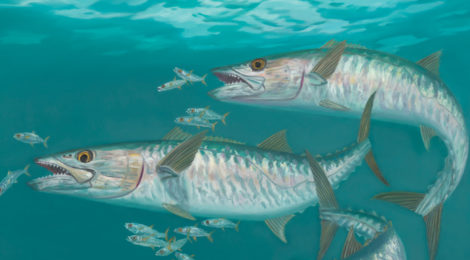 They are called "kings" for a reason.  They are a primary staple for nearshore and offshore anglers fishing Gulf waters.
Smaller sized king mackerel are very sporting on light trout tackle and help round out a day after limits of specks have been caught from the surf.  Further offshore kings in the 40 to 50 pounds class or more are referred to as "smokers" as they will burn-off line when they make their noted sizzling runs.
Popular wildlife and sporting artist Randy McGovern has captured three of these pelagic speedsters as they feast on available bait.  His "We Three Kings" is aptly named and expresses "reverence" for these sleek gamefish.
For more information on "We Three Kings" plus other fine works of art by Randy McGovern, visit www.randymcgovern.com, email at Randy@McGovernwildlife.com or call (770) 598-4090.