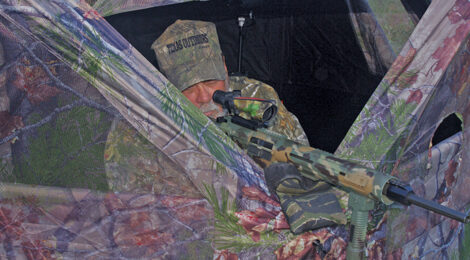 Story and photography by Bill L. Olson
Events of the past couple of years continue to plague manufacturers in the hunting industry. Parts are not available or have been delayed in shipping from foreign countries. Work forces are reduced due to shutdowns or past quarantines. As time continues to pass this could be the hunting season when hunters have to scramble even more to secure the equipment they need to pursue their hunting passion.
Every year hunters are encouraged to begin their preparation early. Those that procrastinate have many times found the lack of availability from many retailers. Even though manufacturers are ramping up to meet pent up demand this could be the season when some products may not be available until the season is over.
The following is an assessment overview of the state of a few segments of the hunting and shooting industry as summer begins. Some information comes from personal desires and experiences while others are gleaned from conversations with retailers, manufacturer reps or manufacturers.
Firearms & Ammo
Starting with firearms it seems a common question asked, particularly when seeking one of the hot-new calibers begins with the availability of the firearm itself. One manufacturer rep commented availability of new product being released is backlogged however there are still some firearms in the model and caliber desired currently in the hands of scattered retailers around the country.
Many of the traditional big name, on-line retailers are showing rifles on back order. While monitoring changes in inventory the best option is to search independent firearm retailers located across the country in smaller communities.
If and when a desired firearm is found the next question asked is "do you have any ammunition for this caliber rifle?" It seems the reason some popular rifle models remain on the shelf is because the availability of ammo for the selected caliber is equally or more scarce.
A successful search for available ammo is probably not going to be at any of the normal places. Plus the ammunition that is being made seems to be more of the military calibers or reliable standard rounds, not the recently released new releases. Plus the producer may even be from an Israeli or other foreign country based manufacturer.
Existing domestic providers are running at full production capacity. Others are refitting and bringing on old plants to meet demand but that will only help address future needs.
Search and follow up is the best way to secure what is needed. Make phone calls instead of communicating via email or electronically. When product is found place the order immediately.
Some might opt to venture into or make a return to reloading. That is an option IF reloading components can be found. There are reports of a shortage of primers, brass, even some powder and other components. As a suggestion, hang on to your once fired brass. Not only is it form fitted to a particular rifle, but you know its origin and quality.
This shortage is not just with long guns. Shotguns and shells were in high demand and short supply last season. It could be more of the same when traditional fall seasons open on September 1.
Optics — Scopes & Binoculars
If a new rifle is bought it is almost assured a new scope will be needed. It seems the greatest shortage of scopes is the higher end segment from a number of manufacturers. Hunters have long been encouraged to buy the best available or they can afford when it comes to riflescopes. The best available as of this writing may be mid-grade models from a number of top brands.
A growing demand for quality binoculars is also being seen. Top tier binoculars equipted with the latest laser range finder or ballistic calculating additions are in short supply. Some manufacturers report this backlog is expected to extend into early 2023.
When it comes time for binoculars look to non-traditional resellers, particularly the New York City based camera dealers. While not normally considered by the hunting and outdoor community, as of the first of May several models of binoculars not available from sporting goods retailers were available from these big camera stores.
We use to use stand-alone binoculars and rangefinders. Quality models that don't have added features still are available with newly released improved models of rangefinders available to fill in the void.
Clothing
If you are a normal sized hunter the increased number of hunting clothes manufacturer may help ease some of the availability shortage. That is if you are willing to try a pattern or product line not previously worn.
Then there are those that have special needs. If you are a big and/or tall size or maybe not as tall the challenge continues. However those that fall into these categories have known this as a reality for most all of our life. The availability of clothing cut to a woman's figure also continues to be in short supply.
One option not often considered when it comes to base outer clothing is to buy the bulk material in the camouflage pattern of choice and have pants plus shirts custom tailored. While this certainly increases the cost it is an alternative that will result in clothes that actually fit. Find a good tailor and once a pattern has been made the cost usually goes down on subsequent orders.
However when it comes to outerwear and rainwear the shortage or availability continues. This necessitates a determined search that may result in a few options. One on-line option for big and tall hunters is BigCamo.com.
Boots
The type boot, size and special features will dictate what is available. While so much of what we use is now manufactured abroad, this is also true with boots and other footwear. If special features are also factored in like sole type, snake proofing, or accommodating a more wide or narrow foot and possibly a high instep, then the selection decreases.
For those with normal sized feet the variety of models from a number of manufacturers means there is a selection from which to choose. During these times it may come down to either buying a boot other than the original style desired or going the custom made boot route.
One of the oldest boot manufacturers that has a proven track record since 1898 and offers a broad selection of hunting boot styles is Russell Moccasin. Visit russellmoccasin.com for more information.
Accessories
Seasonal gear like bird bags, pop-up blinds, facemasks, gloves, shooting sticks, day packs and pack frames and more should be monitored throughout the year. When these products become available buy them immediately. Don't add them to your Christmas list and think they will be available for someone to buy for you. It probably won't be available.
Other Items & Options
While supply is currently short the manufacturers are scrambling to address the demand. Depending upon the segment of the hunting industry there are factories reopening to make ammunition, some components are once again being made in the USA and there are new companies entering the market to see if their "mouse trap" is better and more accepted than what is already available.
In time this shortage will pass, however for now it is a challenge for all. Those that deal with it the best will be the most resourceful and persistent.
And remember, as of the start of June traditional fall hunting seasons in Texas begin opening in about 13 weeks.  If your hunt plans include an early bow hunt out west for big game the time line is even shorter and the available inventory for gear is already dwindling.
************************************************************************
To read more, click here to SUBSCRIBE