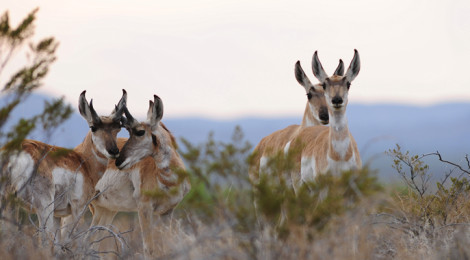 Factors that contributed to the dramatic decline in antelope numbers, and their hopeful recovery.
Story and Photography by Bob Zaiglin
As one travels west of Del Rio on Hwy. 90 over the aqua-blue-colored water of Lake Amistad and the confluence of the Pecos River, a noticeable change in vegetation occurs, particularly with the ubiquitous blood-red flowered ocotillo that hovers over the low-growing thorn scrub. Sixty miles further west, through vast stretches of ashen-gray-colored purple sage, one comes upon a ghost-like town out in the middle of nowhere called Langtry. Named after a famous singer, Lillie Langtry, by Judge Roy Bean, this little, once-thriving town is often referred to as Bean's home and Law West of the Pecos.
Traveling west of Langtry, creosote bush and sage inundate the desert-like landscape before a series of sparsely vegetated rocky mountains appear at the horizon, a region referred to as the Trans Pecos, a hostile, life-challenging environment inhabited by a diverse array of wildlife, birds, and reptiles. Some of the more charismatic residents include the West Texas mule deer, the regal desert sheep, and the one and only remnant species of a family that evolved eons ago, the pronghorn antelope, recognized as the fastest land mammal on the North American continent and second only to the cheetah in the world.
These highly specialized denizens of the Trans Pecos once numbered around 17,000 in the late 80's, but that is no longer the case as they have suffered almost insurmountable mortality rates from extended drought to an infestation of internal parasites Haemonchus contortus, often referred to as the barber's pole worm. It's important to parasites that they do not kill their host, or they all die, but in this case excessive levels of these blood-sucking parasites that reside in the animals' abomasum drew the animals down to a level that drought, and their number one predator, coyotes, took their toll.