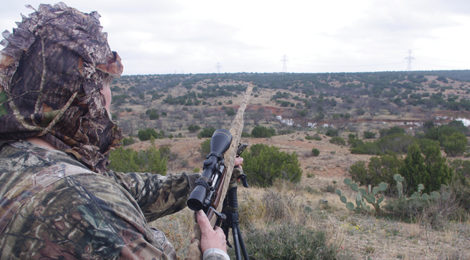 Pro's pointers for when predators don't respond according to "the book."
Story and Photography by Bill L. Olson
Krooked River Ranch/Texas Best Outfitter's predator guide William "Junior" Walker and I had been looking forward to and talking about reconnecting since our memorable hunt in west Texas back in January 2018. On that frosty morning with a real temperature of eight degrees, and a Real Feel of minus six, resulted in a slow start to a predator hunt but ended up finishing with a flurry. Teaming up with TOJ's contributing hunting editor Tom Claycomb III, coyotes and bobcats were eager to quickly respond to distressful sounds played from my FoxPro Shockwave and Walker's FoxPro CS 24 caller.
Once temperatures had warmed by mid-morning, each of our calling stands resulted in coyotes sprinting to the distressful sounds plus visual stimulus offered by the dancing decoy. Bobcats were equally willing to cast caution to the wind with one even venturing out into wide-open spaces looking for the source of what it thought would be an easy meal.
Fast-forward to the third weekend in February 2019 and things were different. Claycomb had prior commitments of seminars at a big outdoor show out west. He was replaced by two of Walker's long time running buddies and avid predator hunters — Mark Kelley and Gary Don Rich.
It was on Rich's ranch we would hunt in Mitchell County near Colorado City. This beautiful red sandy loam land and mesquite covered break county had been a part of his family for over 80 years. We discussed the changes this part of west Texas had gone through over those years and beyond. What was once rolling and rugged grass plains where herds of buffalo roamed began to change as Mexican cattle were driven north. Those south of the border bovine feasted on mesquite beans before heading north and along the way the cattle droppings deposited the seeds from which the mesquite infestation occurred.