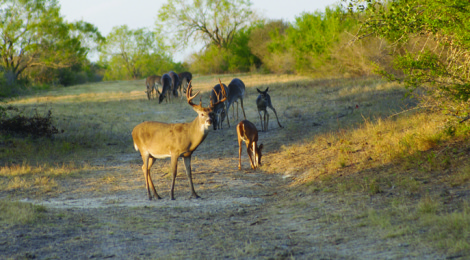 2014 Texas Statewide Hunting Forecast
Story and Feature Photo by Bill Olson, Photography by John Frankson
TOJ's Annual Forecast of Whitetail, Mule Deer, Pronghorn, Quail and other Game Animals along with the latest from-the-field information.
Texas Parks & Wildlife District Leaders and Technical Guidance Biologist continue to point to the lingering effects of the drought of 2011 and its impact on the 2014-2015 hunting season. Most acknowledge a near void in the three and a half year old buck age class due to poor fawn recruitment in 2011. Others caution hunters to use an extra critical eye when taking a buck this season, particularly if it is a young, promising buck that may only be a two and a half year old deer.
Areas of the Lone Star State that got much needed rains are reporting good quail recruitment. Western and southern portions of the state seemed to have received timely rains that enhanced nesting cover, but then dried to facility good "bugging" for chicks.
When it comes to conditions to greet waterfowl that will winter in Texas, another tale of two haves is told. In areas of East Texas that have received an abundance of rain, those conditions may actually scattered ducks. In Central, South and West Texas conditions are improved and waterfowl may be more concentrated.
For more specific conditions in all eight districts across Texas, here is what the wildlife professionals have to say.