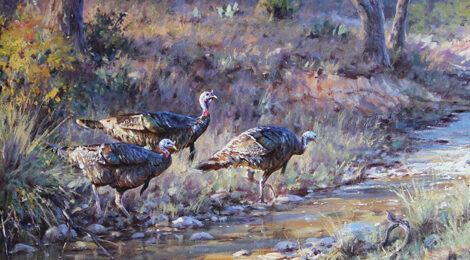 Find water and there's a good chance you'll find a variety of wildlife and game animals. This month's cover art entitled "Fall Creek" these gobblers have certainly found an area that holds their interests. It could be this live water area possesses the ingredients turkey and other animals need to survive, thrive and reproduce.
This spring when turkey hunters take to the field Grimm's painting should be etched in their memory. Find a place that resembles "Fall Creek" and their chances for success increases.
Along the creek banks are tall open story trees in which turkey can roost and escape predators during the night. Many of those trees produce a mast crop on which these vocal birds will consume. Along the surrounding grassy areas are where hens will make a nest, lay their eggs, hatch their poults and hopefully contribute in the recruitment of the next generation of Rio Grande turkey.
Plus it's a good bet the area around this creek will be one of the most colorful year round, regardless of season, Spring, Summer, Fall or even Winter. For more information on "Fall Creek," other fine works of art or commissions by Brian Grimm, visit www.briangrimmart.com, email BrianGrimmArt@gmail.com or call (830) 456-6809.  — Bill L. Olson
************************************************************************
To read more, click here to SUBSCRIBE