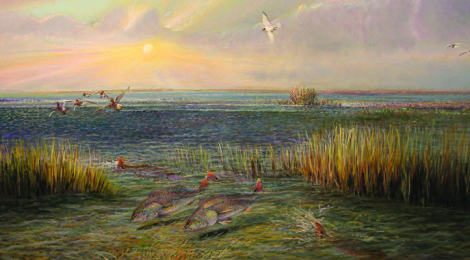 The start of a New Year means a chance to take advantage of outdoor opportunities that only occur during winter months. Native Texas artist Donald Dunn's "Reds on Baffin Bay" captures a flight of redheads coming in to land near a pod of redfish feeding in shallow water. Adding to this scene is the brilliant sunrise that illustrates the perfect way to start a new day in a New Year.
Hunters and anglers alike are encouraged to take advantage of "blast & cast" opportunities before the duck season ends on January 25. Get out and experience first hand what Dunn has seen and captured on canvas.
For more information on "Reds on Baffin Bay" and other works of art by Donald Dunn visit www.donalddunnart.com, or call (830) 583-0030.