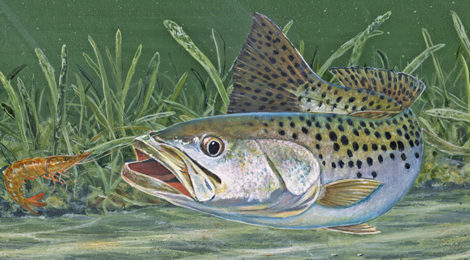 June is one of the best months of the year to catch numbers of quality speckled trout. Early and late the fish will be found along shallow shorelines where they will hit topwater baits. As the day warms the fish will retreat to cooler haunts like deeper holes or bury up in the shade of grass beds on the flats. There they will lay in ambush around potholes waiting on their next meal.
Popular marine and wildlife artist Steve Whitlock has captured a nice speck launching an attack on a shrimp that ventured into a sandy pothole in his "Grass Flat Seatrout." Anglers that target these places can experience a great day of fishing, and later an excellent evening meal.
For years Whitlock has been and remains a favorite at numerous CCA fundraising banquets. Many of his works of art have been showcased as a part of CCA's Banquet Dinner print program.
For more information on "Grass Flat Seatrout", a companion piece entitled "Grass Flat Redfish" or other fine works of art by Steve Whitlock visit www. stevewhitlock.com, call (941) 359-8106 or email steve@stevewhitlock.com. — Bill L. Olson