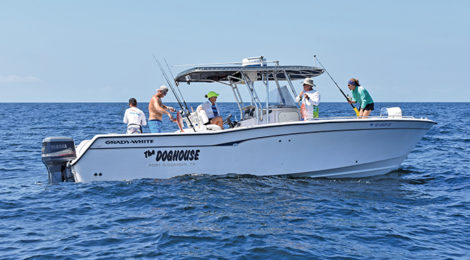 Do your homework, find those blue water honey holes some great unpressured fish.
Story and photography by Robert Sloan
June is a good primer month for heading offshore to fish the Gulf of Mexico from the Sabine jetties on down south to the Texas/Mexico border. That's a lot of water with a lot of fish to be caught on anything from a live shrimp to a hunk of squid. Right about now is when you can also double down on reds and trout on the way out, and then catch some larger fish on an offshore run for kings, ling, red snapper and more.
Offshore fishing is a team effort. The day before a run is when you get all the tackle rigged, gas up the boat, load up with ice, lots of water and all the bait you'll need. That saves a lot of time, and gives you a much better shot at leaving the dock at first light and getting the first bite around rigs, wrecks and rocks.
One full day option is to fish the surf or jetties before or after running offshore.
"We run a Grady White with twin outboards," says Robert Anderson. "It's the perfect boat for fishing the jetties, surf and offshore. We usually have a good team of fishermen that have been making offshore runs with us for decades. One of our favorite trips is to make the run out for snapper and ling, then fish the surf or the jetties on the way back in. When everything works out right, we have a chore to do at the dock – that's to clean lots of tasty fish.
"Then we trailer the boat to the house, wash everything down, run fresh water through the engines and clean all the tackle. It's a long day, but one that our group has been doing for years. The only glitch is that we are in our early 60's and beginning to slow down a tad."
There are a lot of options for fishing offshore. One of the most popular is catching red snapper. This summer we're going to have a snapper season that's open for about 63 days in federal waters out past nine nautical miles. State waters inside of nine miles are open year-round.
************************************************************************
To read more, click here to SUBSCRIBE