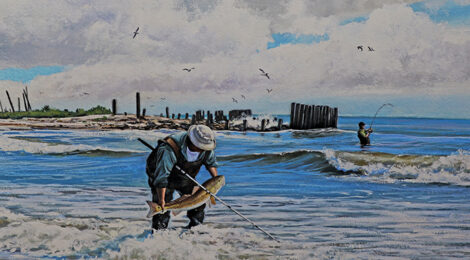 There is such diversity along Texas beachfront and its surf that rolls ashore from the Sabine River to Boca Chica. Some have tower sand dunes while other places struggle to maintain a sand buffer to try and keep persistent waves from over washing coastal shorelines or barrier islands.
There are places on the Texas coast where residents build bulkheads or mini-sea walls to try and prevent the Gulf from claiming more of the beach. For a time those structures withstand the forces of the Gulf of Mexico, but it is only a matter of time before the Gulf claims what belongs to the Gulf.
In the surf there is a variety of gamefish anglers gleefully pursue. There is also amazement of being so close and observing such power.
Popular Texas artist Calvin Carter has capture one of those places that the Gulf has reclaimed in his painting entitled "Releasing A Bull."  However, during the time waters were turned back big bull redfish, speckled trout, Spanish mackerel and other species were caught.  Memories were etched of special times of when an angler released a memorable fish so it could continue populating coastal waters for future generations. For more information on "Releasing A Bull" and other fine works of art or commissions by Calvin Carter, visit www.calvincarterart.com, email mcalvincarter@yahoo.com or call (409) 201-6685. — Bill L. Olson
************************************************************************
To read more, click here to SUBSCRIBE