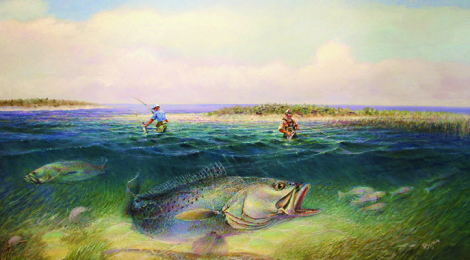 Longer daylight hours and warmer temperatures have anglers and fish eager for opportunities that await in the days and weeks ahead. During the month when spring officially arrives there are those days when winter is almost forgotten, water temperatures along shallow shorelines and flats soar and speckled trout go into a feeding frenzy.
Texas artist Donald Dunn has capture a painted a scene entitled "Feeding Frenzy." It embodies what everyone knows this time of year — when trout are feeding coastal anglers are fishing hard to catch those specks. The best way to catch feeding fish is to "match the hatch." Specks feed on finger mullet so slow sinking baits or topwater lures are offerings gamefish can't resist. With each passing day conditions improve and fishing gets better as speckled trout go into a "Feeding Frenzy."
For more information on "Feeding Frenzy" and other works of art by Donald Dunn visit www.donalddunnart.com, or call (830) 583-0030.