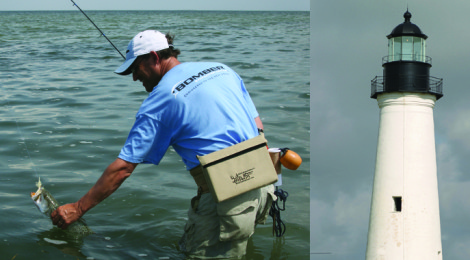 Story and Photography by Danno Wise
For most people, March means one thing on South Padre Island — Spring Break. This tiny sliver of sand just north of the Mexico border has long drawn college students from across the nation to celebrate this annual spring rite. But, while people pile to capacity on top of this well developed sand bar, the waters of the Lower Laguna Madre, which separate South Padre Island from the mainland, are nearly devoid of traffic.
During March, spring fishing in the Lower Laguna Madre is beginning to explode. This combination of low boat traffic and plenty of active fish make South Padre Island and neighboring Port Isabel the ideal Spring Break destination for serious inshore fishermen.
EASY FISHING
Spring Break falls right during the time when trout begin to cover up the bars and fill the potholes in the portion of water in front of the town of Port Isabel – a period locals usually refer to as when the trout are "out front." This is actually one of the best periods of speckled trout fishing of the year. Throughout March and April, anglers can expect regular limits of fish over 20-inches, with plenty of two-foot-plus trout sprinkled in to keep things interested. It is, undoubtedly, some of the best action to be had on "solid" specks. And, although true trophy trout aren't mixed in all that often, there is always the possibility.
Most of the trout action is located in an area on the west side of the Intracoastal Waterway. Basically, the area runs from just above the Queen Isabella Memorial Bridge, along the ICW to the south end of Long Bar. From there, it cuts across the open bay to the western shore and back down to the town of Port Isabel. Within this section of the Lower Laguna Madre is a number of bars, channels, guts and drop-offs, all of which have the potential to hold fish during the spring.
Of the fish-holding features in this area, the ICW spoils are probably the best known and are certainly the easiest to locate. Community Bar and Long Bar have long been popular spots. But, there are dozens of unnamed spoils on both the channel side, as well as on the backside (west) of the main spoil banks, which can be just as productive and don't generally draw much attention.
The spoils which are submerged two to four feet below the water may be holding fish on top or alongside. The main spoil line slopes toward deeper water to the west. These grass covered flats step or drop one to two feet every few hundred yards until a maximum depth of around eight feet is reached.