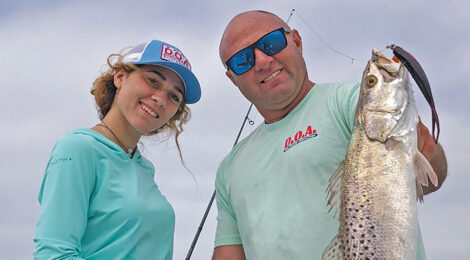 With May underway more memorable days will certainly be made on the fabled waters south of the JFK Causeway.
Story and photography by Danno Wise
The City of Corpus Christi straddles two bays – Corpus Christi Bay and the (Upper) Laguna Madre. Although they ajoin each other, these two bays could not be more different. Corpus Christi Bay is deep and filled with a variety of artificial structure. The Laguna Madre is super shallow and features miles of clear grass flats. Both bays hold plenty of fish, but it is the Laguna Madre that tends to captivate anglers' imaginations.
The Laguna Madre as viewed from Corpus Christi is actually part of a bay system that covers more than 130 miles of the Texas coast and stretches nearly to the Mexican border. It is one of only a handful of hypersaline bays and has a sister bay system of strikingly similar characteristics on the Northern Mexican coast.
The Texas Laguna Madre, as it is referred when needing to distinguish it from the bay of the same name in Mexico, is actually split into the Upper Laguna and Lower Laguna by the Saltillo Flats Land Bridge. The Intracoastal Waterway has created a permanent watery connection between the two, better known as the Land Cut.
Both portions of the Laguna Madre share similar characteristics — shallow, clear, narrow, hypersaline, not much oyster, limited water exchange with the Gulf and minimal tidal effects in some areas. There are stretches of both the Upper and Lower Laguna that are extremely remote as well.
However, the Upper Laguna offers far more access for all types of anglers – boaters, waders, kayakers, etc. – and is a bit more narrow, so it is always possible to find protectect water. Two big advantages when it comes to springtime fishing.
 ************************************************************************
To read more, click here to SUBSCRIBE