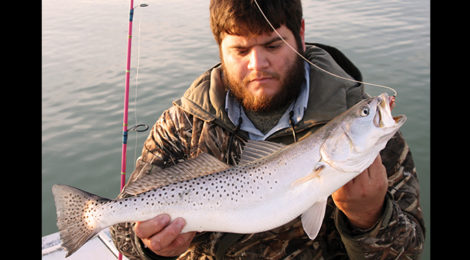 Anglers able to make it onto Texas coastal waters are rewarded this month. Story and Photography by Danno Wise
December generally sees consistently cold weather settling across the Texas coast, which ushers in the winter fishing patterns in bays. True, some years there are plenty of fall-like weather days during the Holiday Season. But for the most part, cooler temperatures prevail during December, with the occasional severe cold weather mixed in. For inshore anglers, this means speckled trout and redfish will be locked into their winter pattern until spring's warmer weather prevails in March.
Fish began transitioning to their winter homes in November as the year's first hard fronts began to chill the waters. As water temperatures continued to decline, fish sought out areas with deeper water, which is less susceptible to sudden temperature swings, plus muddy bottoms that retain heat better than sand. Although they may stray from time to time – when there are a string of unseasonably warm days for example – areas with deep water access and soft-bottom are their home bases throughout the winter season.
That said, deep channels and deep-water structure are the most consistent producers during December, especially for speckled trout. There are a variety of different channels that can be found along the Texas coast. Obviously, the Intracoastal Waterway is the largest and is accessible to anglers throughout the Texas coastline as it runs the entire length of the state from south to north. The ICW definitely yields good catches during winter.
However, because it is such an extremely long and deep channel, fish are not found along every inch of it. In order to be productive, anglers should find features or anomalies – depth changes, indentions or drains along the channel wall, points – that will concentrate fish. Residential canals are another type of deep water feature found in many bays across the Lone Star State. These canals vary greatly in depth and may be found along the shorelines of the open bay or cut inland with a main channel connecting to the bay.