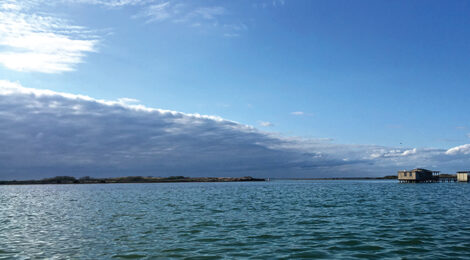 Understanding the effects of cold weather on redfish and their behavior will result in plenty of spot-tails to tangle with.
Story and photography by Danno Wise
January… The start of a new year… A time for optimism of what's to come. However, the reality is we never know what to expect — case in point – the year that just passed!).
Regardless of what is happening in the world around them, Texas coastal fishermen share this sense of optimism as the new year dawns. Dreams of angling adventures to be had over the next 12 months abound during the year's first stanza.
For many fishermen, daydreams of days to come are an adequate way to spend January days, as they too often fail to realize the excellent angling action that can be had in the year's first month. The reality is every year some of the best fishing days happen in the first few weeks of the year – while Baby New Year is still in diapers.
However, the other reality is that like society at large, anglers never really know what will happen in the coming year. January personifies this fact perhaps more than any other month. During January the weather changes quickly. The day can dawn blustery, windy and rainy or calm, sunny and balmy…  Following the weather's lead, redfish behavior changes every bit as fast. As a result, on any given day, they may be found patrolling the shallows, sulking in deep water or somewhere in between. They may be active and aggressive or skittish and finicky. Nonetheless, January offers some of year's best flats fishing – including, at times, outstanding sight-casting — when the conditions are right. Even when conditions are less than ideal, it is rare redfish won't bite when found and approached properly. So while anglers can't control the weather, they can at least somewhat control the catching by understanding how redfish respond to various winter weather conditions.
************************************************************************
To read more, click here to SUBSCRIBE