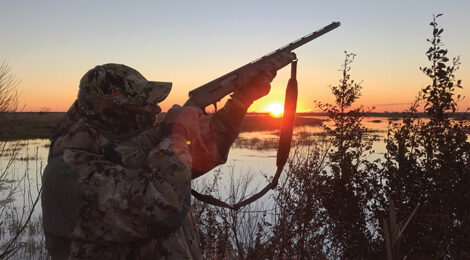 Some Pro's Pointers on where to go and what to expect once you get there, and how to set up.
Story and photography by Robert Sloan
Duck hunting in Texas is some of the best in the world — that is if you know where to go and when to be there. Having hunted ducks over the past 50 years from one corner of the Lone Star State to the other I can say for sure that the public inland lakes and coastal bays offer some of the most consistent duck hunts. But there are private duck hunting clubs that consistently keep their hunters on big time numbers of birds. However there is a hefty price tag to pay for that type of shooting.
On the flip side of private duck hunting clubs are the hunts on inland lakes such as Sam Rayburn. I've got a friend that hunts on that big East Texas lake. He's got a small aluminum boat that's powered with small outboard motor. He mostly hunts in the coves well off the beaten path and the birds he's after are mostly mallards, widgeon and pintails. It's some low budget hunting that's well worth the effort.
A number of years back I had a friend in Beaumont that specialized in hunting on the Neches River. He hunted up around where the Angelina and Neches rivers come together. He would find backwater areas that were covered in aquatic vegetation and used a rake to create a hole big enough for ducks to land in. That's where he would shoot a mix of woodies, mallards and gray ducks.
People that tell me that they can't find a good place to hunt in Texas make me laugh. We have wildlife management areas all over the state. And the lakes and coastal areas are wide open for waterfowl hunts.
Since 1987, the Annual Public Hunting (APH) Permit, formally known as "Type II", offers the opportunity to participate in a variety of inexpensive duck hunts. Over the years, a little over one million APH Permits have been sold. The cost is just $48 per year.
************************************************************************
To read more, click here to SUBSCRIBE