Sunday was a day of jackets.  A green one was handed out in Augusta, Ga., and the Red, White and Blue variety was on full display in Tucson, Ariz., after the USA Shooting Team's performance that included Gold, Silver, Bronze and Fourth on day four of the 2014 International Shooting Sports Federation World Cup.
Competing in his 18th year of World Cup competition, Jeff Holguin (Yorba Linda, Calif.) had earned five World Cup medals, but until Sunday he'd never found his way to the top. That streak, which included 54 international competitions including World Champs, World Cups and the 2008 Olympic Games, came to an end against a brilliant start-to-finish performance that culminated with a duel from a common foe in U.S. Army Marksmanship Unit teammate Josh Richmond (Hillsgrove, Pa.).
Holguin finished with a 140 to put him into the event finals, while Richmond would have to win a shoot-off against Britain's Steven Scott just to be among the top six. Both Army shooters would go 27/30 in the semifinals to set up the All-American grudge match. The gold-medal final would end just like any great duel should, with a shoot-off to determine each American's medal fate.  This time though, Holguin would be the one atop the podium after watching his USAMU teammates do so many times before.
"The wind and some odd target presentation made for some tough shooting, but Richmond and I figured it out and didn't let the conditions get to us," Holguin noted about the day's performance. "We're very fortunate to compete against some guys that are good and we push each other. When we're at the top of our games, we're tough to beat."
Richmond picked up the ninth World Cup medal of his career. Like a golfer in the midst of a slump, which came as a result of a disappointing performance in London, he spent much of the 2013 season reconstructing the way he shoots and competes and today he showcased the fruits of that labor, even if it took him a longer to realize it.
"I didn't have the best day on my qualification rounds," Richmond admitted afterwards. "I ended up on a pretty tough field and shot a 25 [Round 3] and thought it took me completely out of it.  I was a little unsure of my training particularly after shooting a 25. I just wasn't able to let it go like I want to. This is the first time I was able to trust some of my new techniques and styles with the high pressure around me."
On competing against his teammate and friend, Richmond added:
"Once we established we were both in the gold-medal round, it was just like another day at the office for us.  We went out there much more relaxed even though we're still trying to win obviously. But, the important thing is that we had first and second wrapped up and when it comes down to it, that's what is important to us, for the Army, for the country, the USA Shooting Team and all our sponsors.  Once we got out there it was like a grudge match. This is what makes us great when we're able to get in to these types of situations together."
Reigning World Champion Glenn Eller (Houston, Texas) proved that sometimes it is a matter of how you start and not how you finish as he missed qualifying for a potential finals berth by one target.  Back-to-back rounds of 26 to begin the match left him scrabbling to find his rhythm over the next three, something he managed to do missing just three more targets over his next 90 shots. Competing in the extra shooter category, otherwise known as Minimum Qualifying Score, Derek Haldeman (USAMU/Sunbury, Ohio) and Ian Rupert (Muncy, Pa.) would be the top finishers in that division with 138 and 135, respectively.  Haldeman's 138 would tie the mark set by Richmond.
The performance of Holguin and Richmond so captivated the day it did the unthinkable in pushing Kim Rhode's competitive comeback to the 10th paragraph of this recap, even after she'd manage a bronze medal in her return while tying eventual gold medalist Danka Bartekova of Slovakia for the highest qualifying score on the day.
Rhode hadn't competed in an international match since winning Olympic gold medal and fifth-straight Olympic prize after giving birth to son, Carter, 11 months ago.  If she was rusty, it wouldn't show after shooting a 25-straight to begin her day followed by a pair of 24s to qualify for the finals with a 73/75.
She would drop just one target in the 16-shot semifinals and would compete in a shoot-off with Bartekova to advance to the gold-medal round. Bartekova would edge Rhode four shots to three and force Rhode to the bronze-medal match where she'd face fellow teammate Brandy Drozd (Bryan, Texas).
Those two would battle over another 16 shots that again ended in a tie. Rhode would best Drozd in yet another shoot-off,  4-3.
"It definitely felt great to be back in the game here in Tucson. Being it's the first World Cup for me since London and the first of 2014 for all of us, it's really a marker building up to the next Olympics and showed me where I need to work and improve and hopefully bring home more gold for the United States.  I'm very happy with the outcome."
For Drozd, this was just another in a string of solid performances for this rising performer.  She finished with a bronze in Tucson in 2012 and nearly pulled off the repeat against the world's best.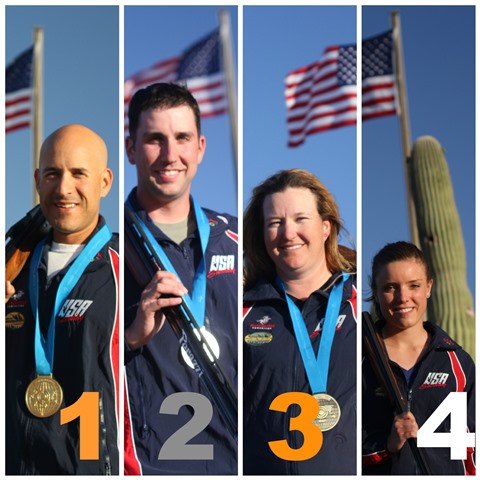 Haley Dunn (Eddyville, Iowa) would nearly make it a trio of American women in the medal hunt after a 70, but would fall just one short of a potential shoot-off for a position in the semifinals.  Competing as an MQS, Amber English (Colorado Springs, Colo.) would shoot a 69 over three rounds.
Men's Skeet also put in two rounds of work today in advance of three more qualifying rounds and finals to conclude this World Cup event on Monday.  Both Dustin Perry (Lovelady, Texas) and Tucson's favorite son Luis "Taz" Gloria have put themselves in fine position after Perry was perfect through 50 targets while Gloria missed just one on the day. Fifteen other shooters did the exact same as either Perry or Gloria and there's another 11 competitors one target back of that. Frank Thompson (Alliance, Neb.), who stepped into to compete in place of the injured Mark Weeks (USAMU/Clinton Township, Mich.), shot a 45 on the day. MQS competitor Hayden Stewart (USAMU/Columbus, Tenn.) was 50/50 during his two rounds as well Sunday.
For complete World Cup results, click here: 
http://www.issf-sports.org/calendar/championship_schedule_by_discipline.ashx?cshipid=1511