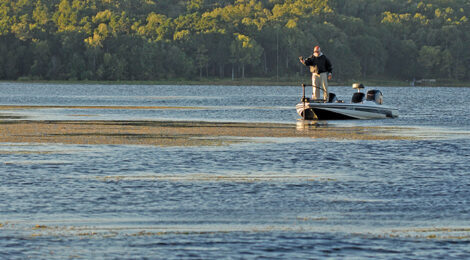 Biologists hopeful that research study will explain the absence of hydrilla on T-Bend, other Texas lakes.
Story and photography by Matt Williams
Veteran Toledo Bend fishing guide Tommy Martin can't help but chuckle when he recalls some of the early conversations shared with local anglers shortly after hydrilla was first discovered in Toledo Bend Reservoir.
Martin, now 81, ran guide trips out of Pendleton Harbor Marina at the time. The 1974 Bassmaster Classic trophy he'd brought home months earlier from Wheeler Lake in Alabama hadn't even gathered a year's worth of dust yet.
"I'll never forget it," Martin said. "The year was 1975 and I'd just gotten home from a couple of tournaments when I started hearing from other fishermen who had found this thick, green grass matting to the surface in deep water in different parts of the lake. They were really concerned about it."
Interestingly, the concern wasn't that the vegetation was crowding their boat docks or hampering their ability to navigate their bass boats.
"They said it was so thick that it was ruining their worm holes," Martin chuckled. "Nobody knew how to fish it effectively."
Eventually, however, they learned. And Martin was among the first students to step to the chalkboard and figure out a way to pass the exam.
Rather than casting to the grass, Martin and others learned to adapt by punching through the dense canopy with heavy, weedless baits like jigs and Texas rigs to get at the thick-shouldered bruisers finning around in the dark shadows below. In November 1981, Martin won a three-day Bassmaster Invitational event with nearly 82 pounds of bass. All were caught fishing vertically in deep grass using a 9/16 ounce Stanley Jig. He added a 1/4 ounce slip sinker on top of the jig head to make it penetrate the thick cover easier.
************************************************************************
To read more, click here to SUBSCRIBE