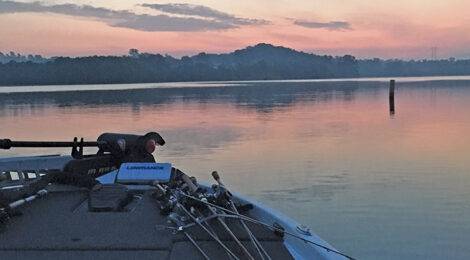 It may be the 21st Century but some timeless techniques combined with reliable on-line resources can shorten the learning curve.
Story and photography Brian Hughes
Every now and then anglers find themselves fishing an unfamiliar lake. Maybe you've heard all the hoopla surrounding O.H. Ivie and you've decided to travel there from your home in Texarkana, Longview or wherever to see what the fuss is about.
Maybe you just got a transfer from your employer and he's sending you from Breckenridge down to Lufkin or Uncertain. It could be you've just fished the home waters so much you're simply looking for a change of scenery. No matter the reason, you'll want to have a game plan when you arrive at a water body you've not seen before.
Some of the best at this are the tournament pros, especially the guys you see on the MLF tour. Don't get me wrong, the B.A.S.S. and FLW guys are phenomenal anglers. But those tours tend to visit the same lakes repeatedly. After a few years on the tour and between practice days and actual competition, many pros will have an abundance of knowledge stashed away on most of the lakes they will be seeing in each tour "season."
The MLF tour has really put in the effort to take their anglers out of their comfort zone, placing them on lakes that most, if not all have never competed on in the past. There is even a segment on the MLF TV broadcast called "Anywhere Is Possible." The idea being that these pros must prepare their boat, gear and tackle for pretty much any possibility.
Said another way, if I know I'm going to a shallow, grassy, timber filled East Texas lake, I'm probably going to leave a lot of my finesse gear at home. Instead, I'll be loading up with frog and flippin' rods, heavy line and lures to match.
************************************************************************
To read more, click here to SUBSCRIBE