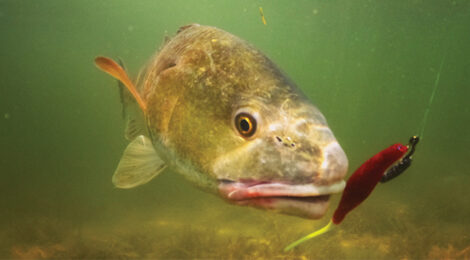 Plenty of fish will be taken on artificials with a bit of an adjustment to lure selection and presentation.
Story and photography by Danno Wise
It's no secret that summer along the Texas Coast is in a word, hot. Typically, by mid-summer the temperatures are already sweltering. As the mercury climbs, fish tend to become more lethargic, much in the same way they are during winter's chill. Once this happens, a good many inshore anglers on Texas bays resort to fishing various natural baits.
However, plenty of fish can still be taken on artificial lures, although somewhat different tactics are needed in order to consistently catch redfish and speckled trout on artificials during the dog days of summer. Whereas power fishing and covering vast amounts of water works well during the milder weather months during spring and fall, successful summer fishing employing artificial lures requires a bit more finesse.
By July, spring winds have calmed, so anglers will often experience slick calm conditions – especially in the morning hours. In addition to being calmer, the waters in bays up and down the Texas coast will be more tepid and have greater clarity than a few months prior. The impact of these conditions on fish cannot be overlooked.
In general, as the water warms, fish spend more and more time at deeper depths. When they are up shallow during summer, they will typically be a bit more skittish due to the clear, calm water conditions. On the plus side, fish will be able to see baits better, so they will be feeding more by sight as opposed to sound or scent. Additionally, the clearer water allows anglers to not only spot fish, but also more clearly see bottom structure and composition.
The clearer water, along with fish behavior – skittish in shallows, sluggish in deep – during summer typically means smaller, quieter baits are in order this time of year. At times, downsized versions of lures anglers are familiar with will work just fine – albeit perhaps retrieved in a bit different manner. At other times, it is worthwhile to think outside the box and utilize some non-traditional finesse baits – lures that are more commonly used for bass in freshwater than trout and reds in salt.
************************************************************************
To read more, click here to SUBSCRIBE