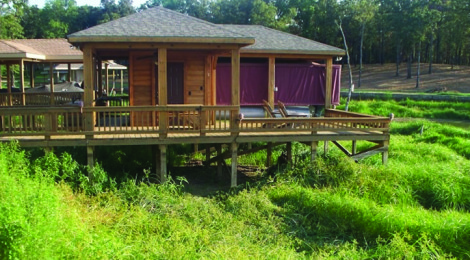 Rising water levels on Texas' lakes will benefit our fisheries in more ways that one.
Story and photography by Matt Williams
It's happened before. Last spring, it happened again. In a whole bunch of places.
The topic up for discussion here is one freshwater fishing crowds in many parts of the state have been dreaming about for months. No, make that years.
It's called "trophic upsurge." Otherwise known as the "new lake effect," trophic upsurge is a good thing. It is what happens when the water levels suddenly jump several feet on a body of water that has been starving for water for an extended period of time. It's great for business because it's great for fishing.
More on that little later. First, let's look at the past leading up to the present.
In case you have been living under a rock, then you probably know most of Texas has been in some form of drought mode ranging from moderate to exceptional for several years dating back all the way to 2010 and beyond. This factor, combined with growing water demands in larger metropolitan areas, caused water levels on many public impoundments to dwindle well below full capacity. Some dried up completely.
While folks out west and down south were still doing a rain dance as this was written, people in eastern Texas and parts of North Texas were scrambling around hunting a bigger umbrella. Some were even begging for somebody to please turn off the faucet after witnessing one of the wettest, soggiest springs in recent history
The timing of the big rains varied from one region to the next. At times, county to county.
In far southeast Texas, most lakes were already full, or real close to it, by the time Easter rolled around. As a result, water controlling authorities in these parts spent most of the spring in the water management mode, letting water out as fast as possible in order to keep up with the near constant inflow without flooding people out downstream.
Up north the story was altogether different.
Several lakes including Fork, Cooper, Richland Chambers, Amon G. Carter, Cedar Creek, Texoma, Lewisville, Ray Roberts, Grapevine, Alan Henry and host of others made huge jumps and refilled to full capacity or above within a matter of weeks. Some filled within mere days on the heels of training weather systems that packed everything from heavy rains and dangerous lightning to hail and even a few tornadoes.
Areas around Dallas recorded more rainfall in a matter of a few months than were recorded in all of 2014. As more and more water fell on already-saturated ground it caused rivers, creeks and small tributaries to swell beyond their banks, sending millions upon millions of gallons water flowing downstream on course for thirsty major reservoirs just waiting to swallow it up.
Many lakes caught water until they couldn't hold anymore, forcing controlling authorities to release water through flood gates in order to make room for more inflow generated by rains that just wouldn't quit.
In some cases the rises came so fast and with such intensity that it resulted in boat ramp closures and a host of other problems. In Athens, which received more than 10 inches of rain during a 6-8 hour period on May 11, a small breach in the dam at the Athens Fish and Game Club lake resulted in a voluntary evacuation of people who live in the area. The big rains also resulted in wash outs and road closures in several different counties.