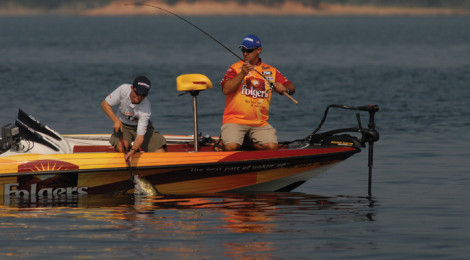 Fishing as a co-angler a good way to reel in tournament experience
Story by Matt Williams
Whether you are a seasoned weekend angler with a competitive spirit or a novice fisherman with a budding passion for the sport, one of the best routes to take for getting your feet wet in the world of tournament fishing is competing as a co-angler. Although fishing "Co" does have some built-in handicaps, it's a great way to learn the ropes of the sport, gain valuable experience, make new friends and cultivate some lasting relationships with folks who have the same interests.
Stay with it, work hard and make a few lucky casts and you might even pad your bank account a little along the way. Though co-anglers don't have the same earning potential as their "pro" counterparts, the prizes awarded to back seaters aren't too shabby.
What is a Co-Angler?
Numerous tournament organizations have "pro" and "co-angler" divisions. Co-anglers are assigned pro partners before the tournament gets underway, usually by computer draw, during a pre-tournament registration meeting. In multi-day tournaments, co-anglers are paired with a different pro partner each day.
The two anglers fish from the pro's boat, but are not in competition against one another. Pros typically pay higher entry fees to compete against other pros. The co-angler competes strictly against other co-anglers.
What It Costs
The amount of money it costs to compete as a co-angler varies with the tournament organization and level of the tournament. In weekend level, single day events like the Wal-Mart Bass Fishing League, co-anglers may compete for as little as $115. The potential earnings are much richer in higher level events like the FLW Tour, Costa FLW Series and Bassmaster Opens, so you'll naturally have to ante up more.
Co-angler entry fees on the FLW Tour cost $800 per tournament, Costa FLW Series, $550; and Bassmaster Opens, $425 per event. These are all multi-day events where anglers are generally guaranteed at least two days to fish before the field is trimmed for the championship around.