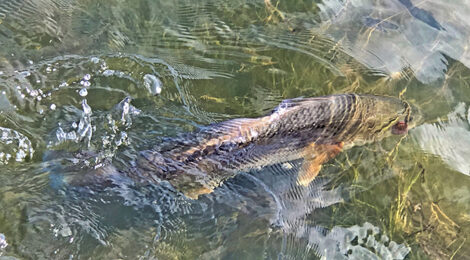 It's especially good in winter when the microorganisms are gone, the water is gin clear and the light traffic middle of the week.
Story and photography by Robert Sloan
As the water temperature on the middle coast bays begins to chill out and the tides become more clear fishing and sight casting to reds can't be beat. Right now there are a lot fewer boats to contend with, the fish are hungry and on a clean and clear tide they are easy to spot and stalk – one of the most popular tactics for catching one of the most popular gamefish along the Texas Gulf coast.
Long time guide Nathan Beabout is an expert at fishing the clear tides for reds. He knows the water from Port O'Connor and on south below Seadrift like the back of his hand. One of his favorite tactics is to work the gin clear flats with soft plastic jigs.
"The reds that I'm targeting are feeding heavily on finger mullet that are about three to four inches long," says Beabout. "So, it just makes sense to use a soft plastic that looks like the baitfish that reds prefer. I use Down South lures that are about three inches long. I'll rig them on a ¼ ounce jig head with a Down South Owner Cutting Point hook. Some of the best colors are watermelon and candy apple.
"Usually, I'll be fishing in three to five feet of water. The ¼ ounce jig head makes the tail easy to cast and with a faster fall will get a reaction bite from a targeted red, or the occasional trout and black drum."
Beabout says he mainly fishes creeks feeding into the bays like San Antonio, Espiritu and Mesquite. And on some days when he's moving from one spot to another he'll cover up to 30 miles of water from Port O'Connor and well south of Seadrift.  "I typically like to find creeks or flats that are loaded with baitfish," he explained. "Go to the bait and you will likely find reds. One of my favorite things to do is to ease into a cut or creek, power pole down and wait for the reds to come to us.
************************************************************************
To read more, click here to SUBSCRIBE