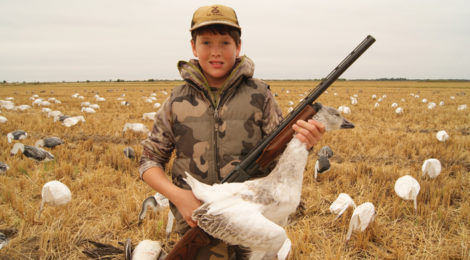 Different geographic regions offer hunting opportunities to shoot geese using a variety of strategies.
-Nate Skinner
The phrase, "Get 'em guys," will forever remind me of goose hunting. During two of the best shoots for geese that I've ever experienced, both guides let out this cry prior to a line of waterfowlers unloading their 12 gauges into the morning sky. On both hunts wads of geese were frequently fooled into landing amongst our decoys as they funneled down from above. Each time we were told to "Get 'em," it seemingly rained waterfowl.
The adventures took place in two different regions of the Lone Star State with separate outfitters. The types of fields we hunted were unalike and so were the strategies employed.
One hunt took place on a massive peanut field in Haskell County, located on the western edge of the Rolling Plains. I spent this memorable encounter alongside hunting guide, Justin Hill of Ranger Creek Goose, and several other hunters. The action was nonstop about 20 minutes after sunrise when the geese lifted from their roosts. Layout blinds kept us concealed while we were surrounded by a vast spread of full body decoys and silhouettes. We smacked our limits of lesser Canada geese and speckledbellies in less than an hour.