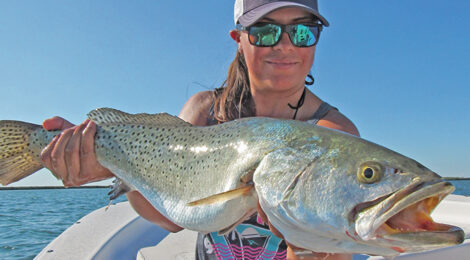 Top-end specks and reds are still a realistic possibility despite August's sweltering temperatures.
Story and photography by Danno Wise
Late summer fishing. Anglers know it's hot. They know fish behave differently. They know if they hit the right spots at the right times, they can still box plenty of keepers. What many Texas inshore anglers don't know is top-end speckled trout and redfish are still very much a realistic possibility despite August's sweltering temperatures. This holds true even in bays such as the ultra-shallow Lower Laguna Madre.
True, catching trophy trout and overslot reds this time of year is a little different than doing it in spring or fall. Some of the areas big fish are found during summer are different than at other times of the year. However, other areas are the same, but when they are on those spots and how they behave when there may be different than in the cooler months.
There are a few general guidelines for pursuing big fish in summer. Tide flowing across a flat is like air conditioning to fish, so times of good current are usually going to be better. Deep water is essentially cool shelter, therefore flats close to deepwater channels are typically best – and they will usually have better tidal movement.
Areas in bay that are close to Gulf passes will be holding cooler water and will also see stronger tide flow because these areas get much better water exchange which means the water temperature is usually cooler on flats near passes than in the upper reaches of bays. As a result, there are more baitfish and more, bigger trout and redfish, in these areas close to passes.
Additionally, mature redfish making their way into the passes for their annual "run" are often congregated on these flats while staging to move into passes. "When you get super hot weather as we do during the hottest months of summer, big fish will always been in, near or around deep water or in areas with access to deep water," advised South Padre Island guide Capt Brian Barrera.
************************************************************************
To read more, click here to SUBSCRIBE