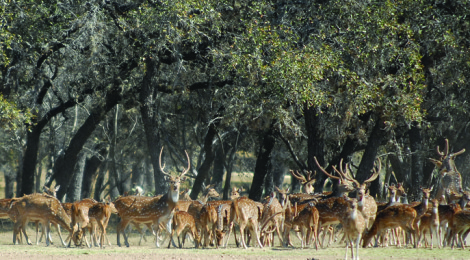 These transplants from India represent an alternative affordable sporting animal during a time of the year no other hunting is legally allowed.
Story and Photography by Bob Zaiglin
The Hill Country is characterized by an abundance of springs nestled between rocky hills that provide grand vistas of an evergreen live oak and cedar-laden landscape. It's also recognized as the 'bread basket' for deer hunters with the highest density of whitetails in the state. But whitetail deer are not its only inhabitants. Visitors to this dynamic ecological region can see a diverse array of hooved ungulates, some of which like the scimitar-horned ibex are more abundant in the Hill Country than in their homeland back in Africa. Some refer to this region of the Lone Star State as 'little Africa' as virtually all of the antelope of the Dark Continent can be seen on private land hunting operations.
Most exotic ungulates have been released onto private landholdings to increase ranch revenue through commercial hunting. Many of the animals have been sustained within game deterrent fences, but over time some have escaped and now occur throughout the region on a free-range basis.
Throughout the Edwards Plateau and portions of the brush country, there exists an ungulate that is despised by some yet relished by others. It's lumped into a category referred to as an exotic, but this one has been here long enough to claim citizenship. The hoofed animal I am referring to is the Axis deer, acclaimed as the most abundant exotic in the state.
The shiny, reddish-brown-colored axis deer dappled with whitetail fawn-like spots throughout its life, is a native of India, where it is referred to as chital. A lacquer-dark, almost black line of hair runs the length of its spine from shoulder to tail, bordered by white spots meeting the underbelly, which is snow white. Males are larger than females with some mature males breeching the 200-pound mark.