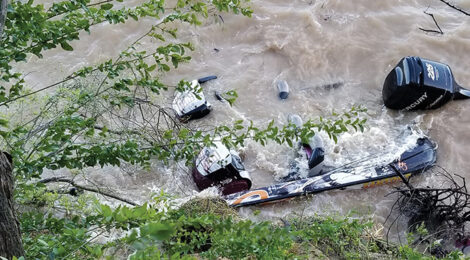 Anglers, hunters and boaters advised to use caution and good judgement in cold weather
Story and photography by Matt Williams
It's fall in Texas and that means some of the most pleasant fishing weather of the year. Enjoy it while you can.
Give it another 30-45 days or so and things are sure to change. Possibly even sooner as Jack Frost drains the colorful life out of the landscape to send the signal that another winter is just around the corner.
Wintertime in Texas means a seemingly steady stream of cold fronts. Just about the time one front passes through another one comes barreling down the pike, usually with a little more steam than the one before it.
Even though Texas winters are much milder than other parts of the country, it still gets plenty cold enough to be a concern for fishermen, hunters, recreational boaters and others who lead an outdoors lifestyle. Most cold frontal passages are accompanied by big winds that can turn a calm waters into a dangerous sea of white-capping rollers in a matter of minutes.
It's never too early to sound the warning trumpets about the perils of cold weather fishing and boating. Cup an ear and listen up. It could save your life, or someone dear to you:
Cold air means increasingly chilly water in lakes and rivers. Though surface temperatures are most Texas waters are moderate now, things are sure to take a steady dive over the next few months before the spring warm-up up begins. In eastern Texas where I live it is nothing out the ordinary for water temperatures on public reservoirs and rivers to dip into the upper 40s once or twice by winter's end.
Anyone who spends time around the water should be extra careful to avoid falling in during the winter months. One rogue wave or bump of a stump can cause you to lose your balance and take unexpected dip into chilly water.
************************************************************************
To read more, click here to SUBSCRIBE