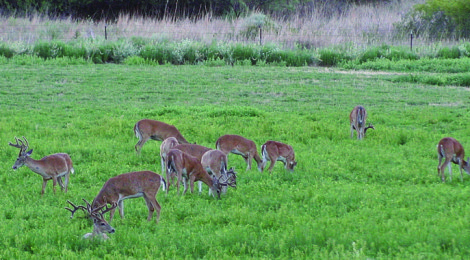 Serious decisions combined with some effort help to enhance the chance at an outstanding buck.
Story and Photography by Bob Zaiglin
Now that the 2014 deer hunting season is over, sportsmen enamored by the pursuit of this iconic species will experience some withdrawal symptoms. For some, it's a time to revisit the grand memories developed over the season. It might be that particular night at camp with the grandchildren roasting marshmallows over the amber-red mesquite coals, or the achievement of taking that buck of a lifetime.
For others it might be the realization that their season was like all others, promising much, yet relinquishing little.
March is the time of harboring all the pleasantries that go along with one's hunting adventures, but if those memories are less than desirable, now is the time period to do something about it.
Quality time spent with friends and family at camp is always memorable as they are a big part of the holistic hunting experience. But these activities can be entertained outside the sometimes cold, dank days of winter.
Most seasoned sportsmen measure their hunting season by what is harvested. But they also take into account what caliber of deer they allowed to walk. In other words, a management-oriented hunter may categorize a season as successful if there were several young bucks observed that should develop into outstanding deer in the future. They simply don't have to kill a buck in order to enjoy a successful year.
However, if those promising youngsters were not seen, the desire to return to the same area the following season diminishes.
Now is the time to prepare for next year, and it may require some serious decisions if not some effort to enhance those most cherished memories of at least getting a chance at an outstanding buck.
The first question one must address is whether the landholding they hunt on is capable of yielding the caliber of buck they are after, and if not, what can be done to improve it.
The one characteristic that is exuded by all big buck hunters is to hunt where big deer occur. Obviously, the big buck producing regions such as the 'golden triangle' of South Texas and portions of the Panhandle are well known, thus it's not difficult to decide if your piece of deer turf is within big buck hotspots. The problem is even within those fabled regions there exists some parcels of land that fail to relinquish the quality of antlers the region is known for.