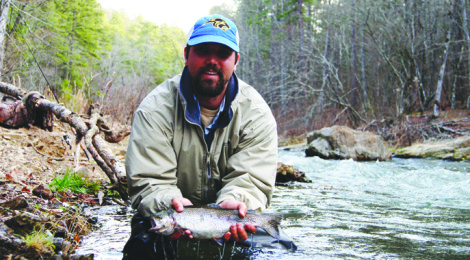 In the foothills of the Ouachita Mountains in southeast Oklahoma lies a paradise of breathtaking scenery and one of the finest trout fisheries west of Arkansas.
Story and Photography by Nate Skinner
The cool air rising from the rushing water was a new feeling that felt almost as foreign as the light spinning tackle I toted along on the hike. Winding trails through the trees made for a leisurely walk down to the riverbank, as we scouted for an eddy or pool amidst the flowing river that might be holding a few trout.
Approaching an area just past a bend that held some calm water, I couldn't help but laugh as I prepared to fish this stretch of the river. Here I was donning the same gear as I would back home at this time of year—breathable waders, a lightweight wading jacket, and polarized sunglasses. However, I was a long, long way from saltwater — nearly four hundred miles away from Galveston Bay and my Texas home to be exact.
A flick of the wrist sent a pink and green rooster tail with a gold spinner into the pool near the opposite bank, where I could already see several rainbows lurking in the break from rushing water. The small spinner had caught my eye at the local fly shop, it just looked good to me, not to mention the added, "oh yea, that's a good choice," from the shop's clerk, sold me on the small bait. I remember thinking, "How am I going to cast something this tiny?" Later I would thank God for the invention of light spinning gear.
The trout apparently liked the rooster tail too, as one turned and engulfed the tiny offering on my third cast. The fish couldn't have been more than thirteen inches in length, but quickly proved to be every bit worthy of the eight pound test that now pulled against it, as several runs of the drag in the swift water made for a sporting fight before the colorful creature finally came to hand. The reds, silvers, and greens that radiated and shimmered from the sides of the bow rightfully earned the fish its name.