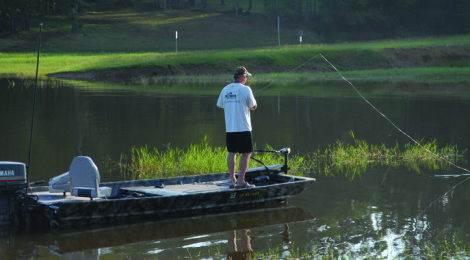 This jon boat is way more functional and much more of a pleasure to take to the lake thanks to a series of recent upgrades.
Story and Photography by Matt Williams
I love my Ranger bass boat, but sometimes I love my old Alweld flatbottom even more. It's a 1994 model with an outboard engine of the same year.
At one time the jon boat was the only boat I owned. I've dragged it all over Texas and launched it onto big waters and small. It's best for knocking around in rivers, running trotlines and fishing small lakes, but it will also get you into some tight spots on big water that are cluttered with brush, stumps and other junk where a big, cumbersome fiberglass boat just isn't welcome.
I bought the 15-foot boat way back in 1995, and the 40-horsepower Yamaha still thumps just as strong as it ever did. The motor sits tall on a four-inch setback jackplate, which really helps out in skinny water.
The original owner, Shane Hale, did a great job of rigging the boat for fishing. It came with carpeted decks, storage compartments, a huge insulated livewell, lights, a bilge pump and a pair of high-back seats. Hale also wired the boat with a 12-volt system to accommodate a trolling motor and a basic fish finder.
The boat came from the factory with a drab, olive green skin. I left it that way until 2007, when I decided to give it a facelift with a custom, camo paint job using the original paint as the base. I accented the camo scheme using small ferns and sealed the deal with three coats of automotive grade clear coat applied using a professional spray rig. This was also a good time to strip out the original blue carpet and replace it with grey, which matched the new color scheme much better.