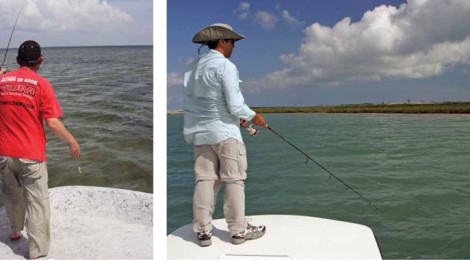 These are top places to find sulking summertime speckled trout, along with some ways to catch them.
Story and photography by Danno Wise
August in Texas is hot. That is a fact and there are no two ways about it – by the time the eighth month of the year rolls around, most Texas bays will be running bathwater temperature. Another inescapable fact is the Texas heat effects fish every bit as much as fishermen. Hence, August's fishing patterns are a bit different than those at other (cooler) times of the year. Sure, fish along the coastal curve have been in a summer pattern for a couple months by August. However, the peak of summer heat tends to alter even this seasonal pattern.
The impact of the scorching summer heat becomes much more distinct the further south one travels along the Texas coast. Moving from north to south, bays in the Lone Star State become progressively shallower, with the Lower Laguna Madre, located scant miles above the Mexican border, being the shallowest of all. As most anglers know, the shallower the water, the quicker it heats up. For temperature sensitive fish, this can make for a very uncomfortable situation on summer days.