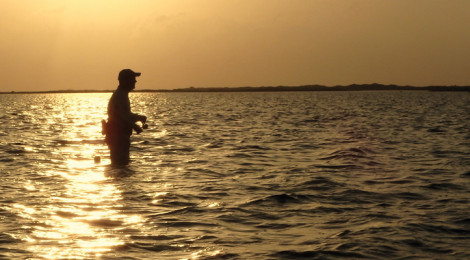 Upper coast anglers start their day early in the shallows and then follow the fish out to deeper waters as conditions and fishing heats up.
Story and Photography by Nate Skinner
It felt good to get wet.  My waders were hung up for the year and the predawn plunge into the salt was a refreshing dip amidst the warm southerly breeze.  Mullet and glass minnows darted in every direction as I launched a floating plug downwind.  The plastic offering walked back and forth across the wavelets, maybe making it about 10 yards or so before being crushed in a fury of teeth, scales, and fins.  There was no mistaking the sound.
I couldn't help but replay the noise of the trout slurping the bait in my head as I brought the fish to hand.  With the first rays of sunlight piercing the horizon and the brine lapping at my kneecaps, I was soaking in the shallow scene.  This moment was truly fleeting as the rising sun brought increasing temperatures that would soon drive these fish to deeper water.  My approach would have to change in a matter hours.  A short boat ride out to the middle of the bay would then be the answer.
It seems this spring will transition into summer more quickly than normal.  After a mild winter and strong warming trends during the last few weeks of spring, it won't be long before anglers will find fish along the upper coast slipping into their summer pattern.  In the wide open bay waters from Matagorda to Sabine this usually means one thing — it's time to go deep.