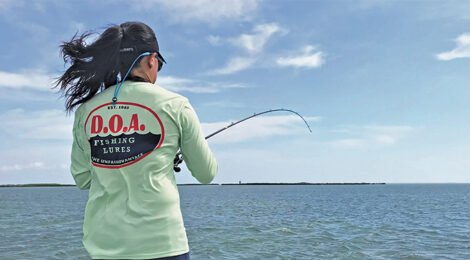 Just about any bay can be fished no matter how windy if you know where to go, what to do and how to make the wind your friend.
Story and photography by Robert Sloan
The wind was honking straight out of the south when I stepped out of my truck at the marina on Sabine Lake. I didn't even bother to gather my tackle and instead walked down the ramp to the boat where guide Jerry Norris was tying on a red/shad Assassin. He looked up and grinned.
"Good day to be flying a kite," he said. "You didn't bring a fishing pole?"
I looked at him and just laughed.
"You mean we're actually going to fish with wind gusts in the 30's," I said.
"Right across the pass the water will be calm and we'll give it a shot," he said. "We are here, let's go."
Two hours later we were making a third drift across Lighthouse Cove and I was slipping the net under a redfish that would easily go 25 inches. It was the fifth red we had caught, along with several trout up to about four pounds. To say the least it was an excellent morning of fishing and a classic example of how to beat the wind on what looked like an impossible day of fishing.
Earlier we had idled out of the Sabine Pass Marina and made a short run to the cove on the Louisiana side of the pass. Once we were in the cove I looked back and could see nothing but rolling white capped waves in the ship channel. But the cove was fishable and pretty much undisturbed by the blustery wind. And the fishing was great.
"What we did today is proof that where there is a will there is a way," said Norris. "I get clients wanting to cancel their booked fishing trip on a windy day. That's when I have to explain to them that there are areas on just about any bay that can be fished no matter how windy it is."
************************************************************************
To read more, click here to SUBSCRIBE