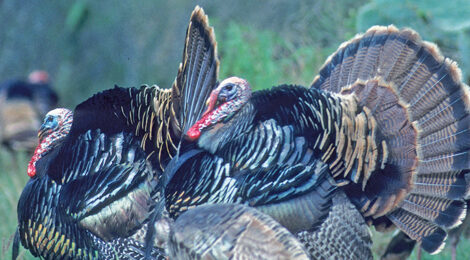 It's an incredible time as landscapes explode with color, vibrant male songbird call to attract a mate as does Texas most vocal resident — Rio Grande turkey.
Story and photography by Bob Zaiglin
Nature experiences a face lift in the spring as drab-colored, leafless vegetation turns vibrant green accented by a ground layer littered with wildflowers, emanating a jelly bean array of colors. It's an incredible time to be afield, and if the visual spectacle doesn't attract one's attention, the diversity of migrating birds will. The colorful arrivals saturate the tranquil landscape with a cacophony of harmonious songs, orchestrated by males attempting to attract mates and one of our most vocal residents is the Rio Grande turkey.
The golden triangle may be ground zero for trophy whitetails but to spring turkey hunters they are eclipsed by Sutton, Edwards, Kerr, and Uvalde Counties. Sutton County may be the top turkey hunting destination in the state and visitors become well aware of this fact as brilliantly-colored gobblers are regularly observed strutting on the grounds of the Sutton County Courthouse.
Terrain in this region is flat to slightly undulating, with a landscape blanketed in short grass and cedar plus interspersed with live oak motts representing ideal turkey habitat.  Turkey, however, occur throughout much of Texas affording sportsmen excellent opportunities to test their calling skill in an attempt to attract loquacious longbeards to within scatter gun range. 
************************************************************************
To read more, click here to SUBSCRIBE