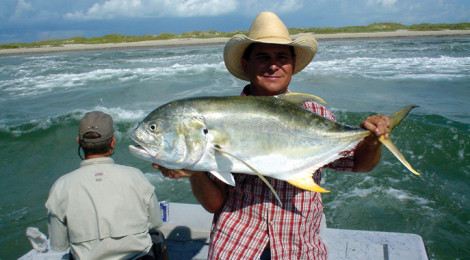 From piers, jetties, beach or boat inshore anglers can move outside and tangle with some Gulf brutes.
Story and Photography by Danno Wise
Summer means warmer weather, warmer water and more available species within reach of fishermen working the nearshore Texas coastal waters by foot or small boat. During the prime months of summer – July and August — it also means inshore anglers are able to get in on some "offshore action" by catching larger species, many of which are found further out in the Gulf during other times of the year.
TARGET SPECIES
During the summer season, inshore anglers will have no fewer than a half dozen hard fighting species roaming the nearshore waters at any given time. These are the most commonly caught hard fighting species along the Texas coast.
Sharks – At least a handful of shark species occur close to dry sand in every corner of the Gulf. Although they're often found within casting distance of the beach, not all of these sharks are 'pups.' Legitimate 'big fish' are often found within a few hundred feet of the tideline.
While fishing off Gulf beaches, anglers are most likely to encounter blacktip, Atlantic sharpnose and bull sharks. However, tigers and hammerheads are also legitimate possibilities.
Bull Reds – Although anyone who fishes for reds on the inside flats would hardly consider them 'big game,' fish of this same species routinely reach the 48-inch mark and fish topping 50-inches are entirely possible. Red drum of those proportions are capable of slugging it out with anglers equipped with heavy tackle as well as any fish that swims.
Jack Crevalle – Since they do not provide palatable table fare, jack crevalle are typically shunned by inshore anglers. However, when schools of brutish bull jacks – fish between three and four feet long – move in, they are impossible to ignore. For fishermen simply looking to test their tackle and tangle with a powerful fish, it's hard to go wrong with a jack of those proportions.