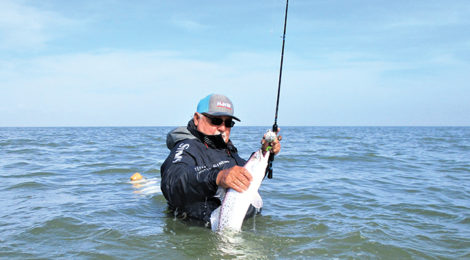 Pro's pointers on where to find and catch big yellow mouth speckled trout.
Story and photography by Robert Sloan
The heaviest speckled trout in the Texas record books weighed 15.60 pounds and was caught by Bud Rowland with a fly rod and a home-made crab-like fly that's about as big as a silver dollar. The heaviest trout in the Lone Star record book, caught on a baitcasting rod and reel, weighed 13 pounds, 11 ounces. It was caught by the late Jim Wallace, who was fishing a chartreuse/sparkle colored Corky. Both of these trout were caught from the Laguna Madre. Wallace caught his state record trout on Baffin Bay. Rowland made his catch on the lower end of the Laguna.
There is no doubt that if you are dead serious about catching a trophy trout you need to spend a lot of time on the Laguna Madre. But if you're in the hunt to tangle with trout weighing more than seven pounds or so, you might want to check out places like East Matagorda Bay, East Galveston Bay and Sabine Pass. My best trout, weighing just over 10 pounds, was caught on a topwater plug fished in Sabine Pass.
There's no question about when a trout becomes wall class. A seven pounder is close, but not quite. An honest eight pounder is a trophy. Nine's and 10's will take your breath away. And fat sows, like Mike Blackwood's old state record 13 pound 9 ounce trout, and Wallace's 13-11 are outright Boone & Crocketts of the speck world.
The length of a trout is a good way to determine a specks weight. According to TPWD numbers, a 24 inch speck will weigh about 5 pounds, a 28 incher 7-1/2 pounds and a 30-incher is roughly 9 to 9-1/2 pounds. Blackwood's record trout measured 33-3/4 inches. Wallace's was 33-1/8 inches. And Rowland's was 37.25 inches long. So, if you catch a trout measuring 29 or more inches long you've got a trophy. When is the best time to catch a trophy trout? Well, Rowland caught the existing state record on May 23. While easing along in his boat he spotted the huge trout on a two foot deep ledge of water located just off a drop into deeper water. Wallace caught his state record on Feb. 6. Blackwood's state record was caught on March 16.