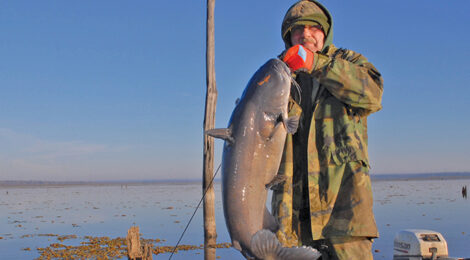 Changing seasons puts fat cats on the prowl and multiple fishing tactics in play.
Story and photography by Matt Williams
When dock talk turns to heavyweight catfish, I often think about my good friend Charlie Shivley.
Shivley is owner of Bill's Landing on the Texas-side of Toledo Bend, a 181,000 acre reservoir shared with Louisiana. The remote fishing camp is flanked by waters so ripe with big fish lore that it almost feels like risky business when you dare to soak a bait there.
Shivley is a passive fisherman who likes to catch whiskered fish any time of the year, but he's a fall guy at heart. Autumn brings cooling water temperatures that spur the piscatorial titans to feed aggressively when the water level on the big lake is usually at its lowest point of the year.
Though many of the larger fish are caught by trotliners, fall and early winter are the times when Shivley likes to break out the stump hooks. Stump hooking is a passive fishing tactic built around a single hook tethered to a strand of 600 pound tarred nylon twine. The string is secured to a solid stump alongside a major or secondary creek channel.
When water levels drop, thousands of stumps are exposed at the lake's upper reaches. Think of it like a giant pincushion. All of the stumps poking above the water's surface make it easy to find the edges of deeper creek channels and sloughs that big catfish use as highways to feed, often under the cover of darkness.
Stump hooking works best when the hook is tipped with a live perch or piece of cut bait. The fish hooks itself when it attempts to steal the bait.
The water level on T-Bend in mid-October was about four feet below normal and dropping slowly. Shivley said the stump hooking prospects should be red hot about now, provided there has been no flooding to spur a significant rise in water levels and no excessively cold weather to drive water temperatures into the low 50s.
************************************************************************
To read more, click here to SUBSCRIBE