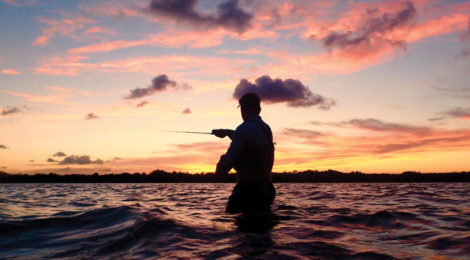 The upper portion of West Galveston Bay offers significant options for anglers targeting trout, reds, and flounder during the cooler months.
Story and Photography by Nate Skinner
"The largest trout I've ever caught came from this spot." Those words hastened my pace as I donned my wading gear and prepared to plunge into the salt. It was what anyone would want to hear while bailing out of a guide's boat and following his lead towards a fish laden flat. We were quickly thigh deep and chunking Unfair Lures Dawgwalkers, working both edges of a narrow reef that jutted out to the south away from the shallow grass beds we had anchored near along the north shoreline of West Galveston Bay.
We welcomed the northerly breeze hoping the minor cool front would jump start the morning bite. As our floating fakes walked over the edge of the shell it was clear our hopes would soon become reality. The blowups came simultaneously and our rods bowed with drags peeling in opposite directions. My fish gave up first, as I brought a fat, 20 inch trout to hand. My comrade, however, was dealing with a much stronger beast that had him spinning in circles as he tried to keep up with the fish's short bursts through the shallow water. A copper sheen at the surface soon showed he had hooked a stout redfish and the brute rolled once more before being landed.