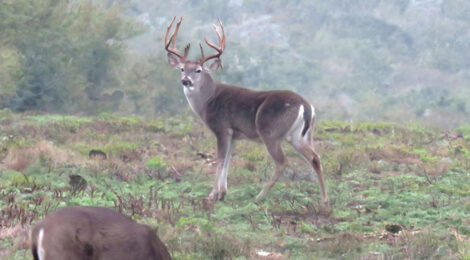 TOJ's Annual Forecast of Whitetail, Mule Deer, Pronghorn, Quail and other Game Animals along with the latest from-the-field information.
Story by Bill L. Olson and photography by John Frankson
As Texas hunters we are amazed at the diversity of our state's terrain, equally varied climatological challenges that confront wildlife and their habitat plus more times than not marvel at the resilient tenacity of wildlife to make a living on our landscapes. We might want to mark 2020-2021 down as one of those periods we simply shake our collective heads in amazement and wonder, "how do they do it?"
From increasing drought conditions, to an extreme winter storm that was followed by an extended period of timely rains that seemed to set the stage for recoveries and rebounds, recent weather events have etched the past year into Texas' wildlife historical weather book. Everything that makes a daily living in our wild places was impacted and most have been rewarded with timely rains that set the stage for not only short-term recovery but also potential long-term gains.
This upcoming hunting season will also see a return to more normal activity as hunters better understand precautions needed to protect from on-going threats from Covid and its mutated variances. Collectively we know the outdoors as a haven and it will be good to see a return to more normal activities.
To better understand the complex wildlife issues we again turn to all eight Texas Parks & Wildlife District Leaders, their field staff and technical guidance biologists. They will help break down where we started, the impact of what was experiences and how it might shape our wildlife and their habitat's future.
REGION 1, DISTRICT 1, Trans-Pecos (West Texas)
************************************************************************
To read more, click here to SUBSCRIBE