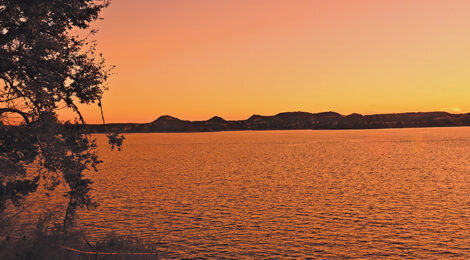 Whether angling for largemouth, smallmouth, white, or striped bass, Canyon Lake has a lot to offer.
Story and photography by John Jefferson
I spent the early days of my fishing career on the Guadalupe River between Seguin and New Braunfels. My grandmother lived on the high, north bank and a long slough wound behind her little house for several miles. It was heaven for a 10 year old with a cane pole and a can of worms. Big Rio Grande Cichlids (perch), an occasional catfish, goggle eyes, and other sunfish were my targets. I'd start looking forward to summering there about the first of March.
By the time I went off to college, the lake-boom hit high gear in Texas. Before that massive lake construction frenzy, there were only a couple of lakes in Texas, most notably Caddo Lake in North Texas on the Louisiana Border. A new kind of fishing was arriving with each new lake.
I was 23 years old before I ever heard of white bass. Twenty-four before I ever saw one. And older than that before I caught my first one. Whites were lake fish and spent most of their life in deep water chasing shad. The lure of the Highland Lakes led me to Central Texas. That allure never left.
One day, I heard there was a new lake being created by damming the Guadalupe River upstream from my summer home. It was to be called CANYON LAKE.
As if a lake on the Guadalupe River wasn't enough to captivate a young man' imagination who had come of age fishing on the Guadalupe, they had to go and name it for the geologic feature that gave the Hill Country its charm.
************************************************************************
To read more, click here to SUBSCRIBE