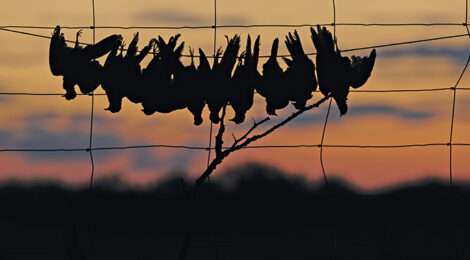 Insights, reflections and anticipation plus things some might not know about these popular gamebirds. 
Story and photography by Bob Zaiglin
As I walked the tree-lined streets of Uvalde at daybreak each morning in June, a cacophony of bird songs rang out from the tall pecans and massive live oak trees that define the town as "The Tree City". From the bubbly, gurgly song of the winter wren to the guttural, harsh yet melodious song of the red-coated house finch, songs of a dozen or more birds could be heard, but none more abundant than the distinct song of the white-winged dove, repeating loud coos that sound like 'who cooks for you'.
While a graduate student at Texas A&I University back in 1976, I had the privilege to assist my good friend and fellow graduate student Don Waechtler as he attempted to estimate white-wing dove breeding populations by recording the amplitude of their songs and employing it in a manner that a population density figure could be determined. Well, if the volume of their calls indicates how many nesting pairs occur, dove hunters should have ample opportunity to bag a few of these birds this fall.
After enduring a tumultuous year marred by unpredictable outcomes from a pandemic and weathering the ice storm of the century followed by severe drought, Texas sportsmen are looking forward to some good news, and the prognosis of an outstanding crop of doves will more than serve that purpose.
************************************************************************
To read more, click here to SUBSCRIBE