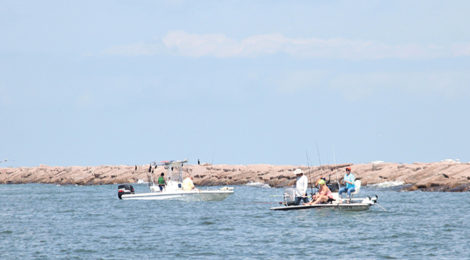 Different jetty structures attract an array of gamefish for Texas coastal anglers.
Story and Photography by Robert Sloan
Back in the 60's my dad used to load my brothers and me up early on Saturday mornings and drive us down to the Surfside jetties in Freeport for the day of fishing and fun in the sun. Back then we fished with live shrimp or fresh dead shrimp, and the occasional live finger mullet. On a good day we would catch a few trout, some reds, croaker, sand trout and of course all the blue crabs we could haul away. It was all good, and by the time we made it back to the house in Sharpstown, we were totally out of energy. There was nothing like spending the day at the jetties. The rocks were fascinating. They attracted all sorts of fishermen and when the water was green to the beach the fishing was exceptional.
Rocket forward to 2019 and I'm still fishing the jetties. In fact, I fish the Port O'Connor jetties regularly with the same buddies that I used to fish with in high school. Back in the 70's we would load up the surfboards, fishing gear and girlfriends then head to Surfside. If the surf was flat we would wade fish, or head to the jetties.
There is definitely no shortage of jetties along the Texas coast. You can find them at Sabine, Galveston, Freeport, Matagorda, Port O'Connor, Packery, Port Mansfield, Port Aransas and South Padre Island. However, all jetties are not created alike. You can catch just about anything at the jetties.
On the upper coast trout and reds are the target fish for most anglers. On the middle coast, like at Port O'Connor where the water is really deep along the jetties, you can catch anything from king mackerel to sailfish. Ditto that for the lower coast jetties.
The Galveston jetties are big time popular among thousands of fishermen. They attract a ton of anglers from Houston. You can fish these rocks from a boat or walk them. Ditto that at the Freeport jetties.